About WellUAmerica
WELLU AMERICA, LLC is a family business that imports and distributes the LARENS brand of advanced skin care products and the NUTRIVI brand of 100% Natural Dietary Health Supplements, which are manufactured in Switzerland and Poland under SWISS QUALITY Control Standards.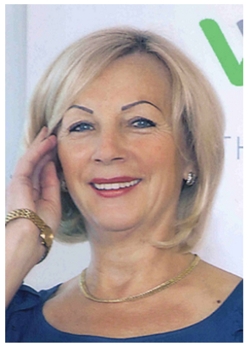 WELLU AMERICA was founded by Urszula (Ula) who has studied extensively in Europe about natural nutrition and skin care formulations that do not contain any harmful synthetic ingredients. That's why we are proud to be associated with a company in Europe (Well-U) whose holistic philosophy is "Do No Harm" to the body and who use only natural biologically active ingredients like peptides and natural collagen.
Formulations for LARENS Skin Care products and NUTRIVI 100% Natural Nutritional Supplements were developed by a team of medical scientists under the direction of Prof. Andrew Frydrych, MD, PhD, who is the Director of the Department of Human Physiology at the Health & Sciences Medical University, Gdansk, Poland. Dr. Frydrych has received several awards for his work in medical and nutritional research and holds ten patents in medicine and nutraceutics, including a patent for a cold-process of extracting collagen from the skins of selected cold water fish species, which is used in the LARENS and NUTRIVI line of products. (The cold process preserves the biologically active collagen).
NOTE ABOUT MANUFACTURE OF DIETARY SUPPLEMENTS:
Dietary Supplements (such as vitamins) produced in Europe must comply with the European Union (EU) regulations that are stricter than Federal Drug Administration (FDA) regulations in the United States because in the EU the Food Supplements Directive of 2002 requires that dietary supplements must be proven safe both in dosage and in purity before being sold. In the US, the FDA does not pre-approve the manufacture of dietary supplements, such as Vitamin C. In the US, synthetic ascorbic acid (made from GMO corn using the acetone to produce ascorbic acid) can be labeled as "natural" vitamin C.